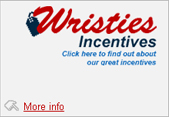 "WRISTIES" are a best selling product available in Gloss, Metallic or Holographic material in an extensive range of attractive and vibrant colours and styles. These identification bracelets are ideal where tamper-proof security is required. Once on the wrist they have to be snapped or cut off, thus preventing them from being re-used.
They are ideal as identification wristbands and admission control in clubs, bars, hotels, parties, hospitals, festivals and sporting events, in fact anywhere where fast and cost effective security or visual identification is required.
All our security wristbands are comfortable to wear and are made of a durable, but lightweight and waterproof plastic.
We can supply all quantities, big or small from a minimum of 100 and can promise fast and prompt delivery, with outstanding personal service. We can even handle mixed colour orders. We carry a number of styles and colours of two main types of bands, these being plain Go Bands and Glitz Bands.
"WRISTIES" are an effective, non-transferable, tamper-proof ticketing method. Bright and attractive colours, easily snap locked around the wrist, eliminates lost tickets, and gives efficient and practical crowd control.
Why not personalise them by printing your company brand or logo on your wristbands or identification bracelets for added security.
Please take the time to browse the "WRISTIES" website and please view our main website www.jc-leisure.com to see how our specialist printing can help your business.